The PUBG Mobile is the most played mobile game in the world. The PUBG Mobile recently launched Season 14 on its global servers. The weapons, maps, and survival are not the only fascinating things. The game has more than 400 million registered users on the platform. PUBG Mobile has various in-game levels like Bronze, Silver, Gold, Platinum, Diamond, ACE and Conqueror. The race to reach "Conqueror" is also the reason why people love PUBG Mobile.
The new season arrived with fresh Elite Royale Pass rewards, and new rankings for players. And Everyone tries to get in Conqueror. A player needs lots of dedication and great skills, with better decision making, to reach this "Conqueror" in PUBG Mobile.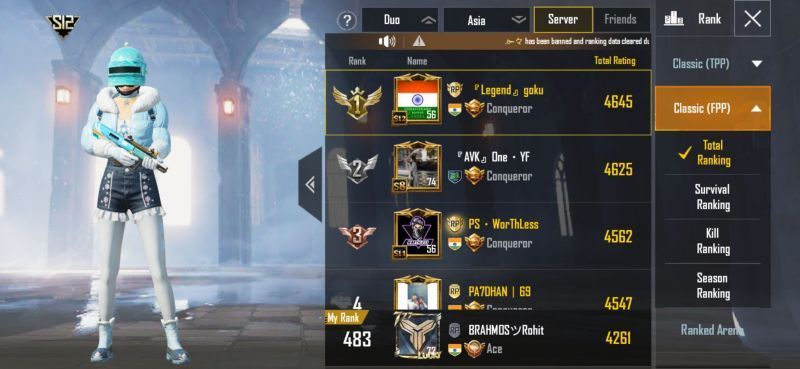 All these season tiers can be achieved with good rating points. However, in order to reach 'Conqueror' in the game, one has to be in the top 500 in any server of a particular season.
Here are some tips and tricks to get your winner on track as soon as possible:
Choose Your Squad Carefully:
Squad is a gameplay type where players are organized into teams which are then pitted against each other. This is distinct from the classic Free For All (FFA) gameplay mode, where players are free to kill whomever they wish. SQUAD, a game mode where you can team up in groups of 2, 3 or 4 players, or if you prefer, you can still play solo and take on everyone alone in the match.
If you are planning to reach the winner in the squad, the most important thing you should remember first is to choose a good squad. A good clan is always way ahead of those without any strategic planning. The players who make bad decisions can often send you to the lobby.
Survive: To be the best and get the winner, you need to be in the top ten for about 95% of the time. The average survival time has to be increased. If you are someone who believes in cruel sturdy action and kills harshly, your survival time should also be considered. The rating assigned to any player is 80% survival and 20% kills. 
Avoid Sanhok Map and Play Miramar or Erangel:
Out of all three maps, an average match time of Miramar is more than Erangel and Sanhok. The map of Miramar is comparatively bigger and therefore, one will get a good game rating which will help to reach 'Conqueror' quickly.
Sanhok games don't keep going long for over 20 minutes. On the off chance that you have this measure of endurance time, your rating will be less contrasted with players who just play Erangel and Miramar.
Stay tuned to GameLodu for more updates on PUBG Mobile.
Thank You For Visit My Website. You can share your questions or suggestions in the comment box below, or you can contact us 🙂